Choir Events
MKCS Summer Concert - 1st July 2023
Julian Jensen's final concert with Mount Kelly Choral Society was an uplifting, joyful, and moving occasion. Julian's time with the choir was reflected in a programme of music harking back to the full and varied repertoire that we have shared and enjoyed over the past eight years.

The audience were treated to excerpts from Haydn's Creation, Vivaldi's Gloria and Mozart's C Minor Mass, in which the soloists were Bianca Phillips soprano, Hugh Walkington Bass, and Julian Jensen himself multitasking as tenor and conductor. Mary Mazur Park accompanied throughout, and also astounded us all with her glorious rendition of Chopin's 'Revolutionary Etude'. Bianca Phillips delighted us with her performance of Mozart's 'Una donna a quindici anti' from Cosi fan tutte. And Julian floored us, as always, with his tender rendition of Ernesto De Curtis's 'Non ti scordar'.

In many ways, the touchstone to the evening was the Lux Aeterna from Harvey Brough's Requiem in Blue. With its pure simplicity and heart touching sentiment it is a beautiful selection, taken from a work whose performance was cancelled when COVID first arrived in our midst. Julian's only unperformed work with us was sung by our choir joined with the sensitive singing of Mount Kelly School's Harvey Parnell and Bianca Phillips, and held together by the spirited understanding of Grace Cazzoli's narration. It is a piece not easily described, so have a listen to this performance on YouTube. You'll be glad you did.

Thank you for your eight years with us Julian. They were years in which we were privileged to have you as our conductor and friend.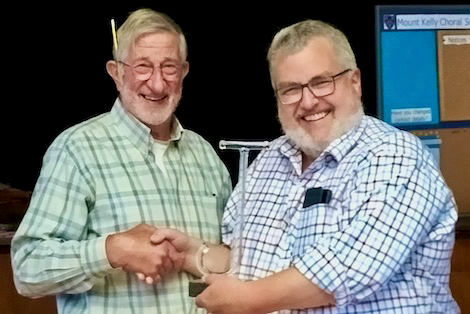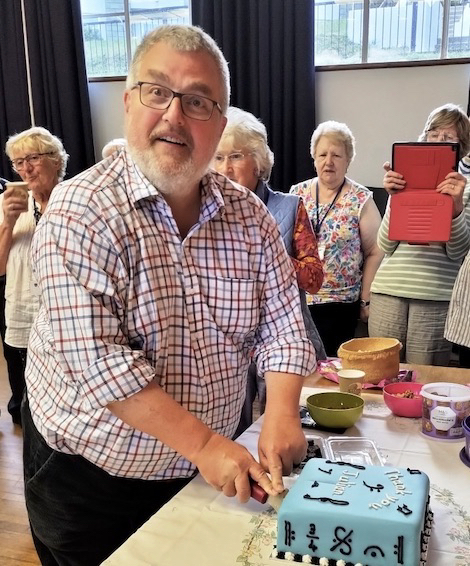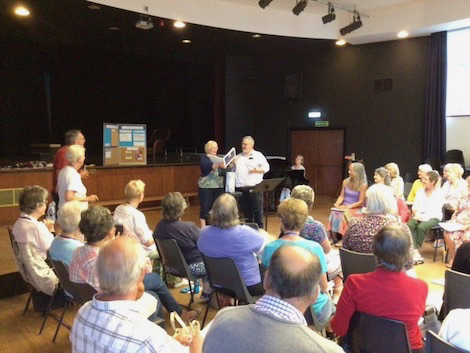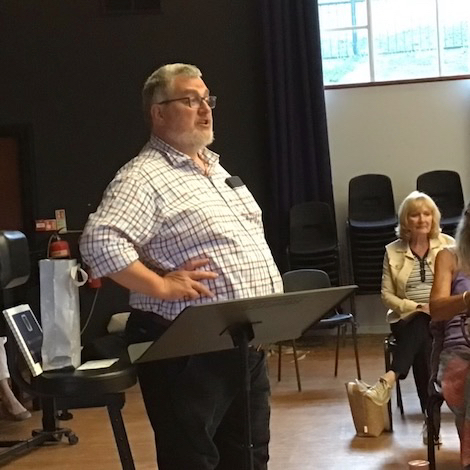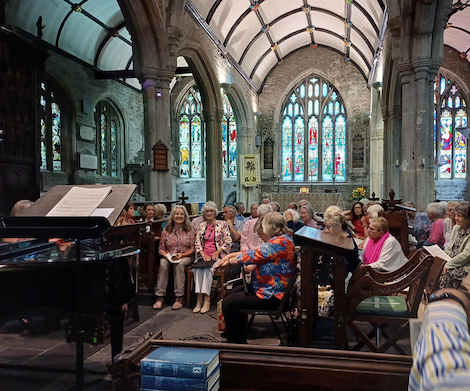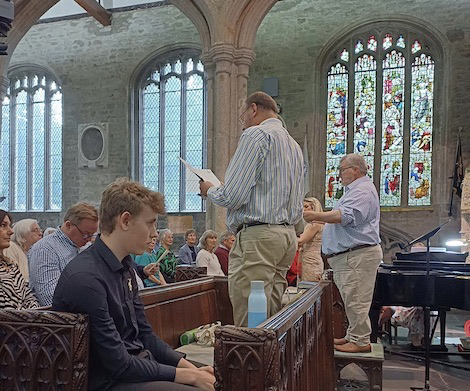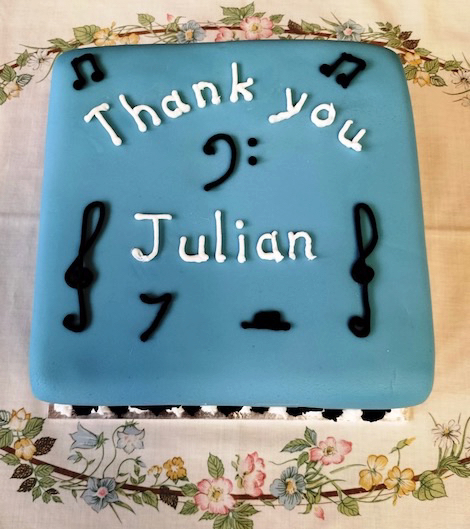 Carols at Buckland Abbey - Christmas 2015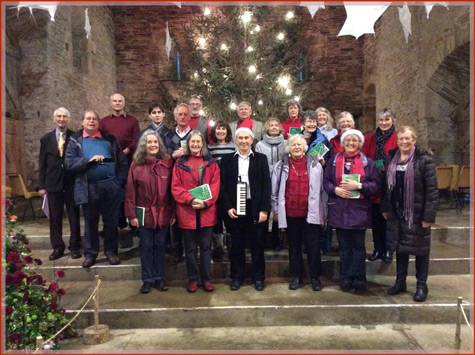 Our Christmas concert brought a great deal of pleasure to audience and singers alike.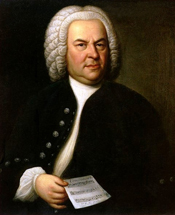 Opening with extracts from Bach's Christmas Oratorio, a warm traditional Christmas welcome was extended to a cheerful and supportive audience, who had forsaken Strictly Come Dancing for more substantial classical fare.
The choir was elegantly supported by Sopranos Bianca Phillips and Hatty Ekbery, who together with Bass Andrew Farris brought clear voices and a keen ernestness to the work's narrative flow.
The interval - in the Methodist Hall's thoughtfully provided lounge area - included some delightful bites and really delicious warmly spiced orange cordial (I would love to include the names of the accomplished chef and cocktail-maker, if only someone would send me the information!).
The second half of the concert began with 'A Fantasia on Five French Christmas Carols' - Alan Smith's original arrangement of traditional French carols. This tender and engaging medley was commissioned by Julian Jensen especially for this occasion, using "the same instrumental forces as the Rutter Gloria".
It proved to be music that many of us would dearly love to hear again.
This was followed by perhaps one of the most challenging choral works that the Mount Kelly Choral Society has performed for some time, John Rutter's 'Gloria', which delivered a level of immediacy and excitement that shook not only the audience, but probably the rafters of Tavistock's old Methodist Hall as well.
Reading from our conductor Julian Jensen's entertaining and informative Programme Notes...
"This is an early work of John Rutter, completed in 1974 for the American choir Voices of Mel Olson and its first performance was in Omaha, Nebraska.  The text comes for the Ordinary of the Mass and in the original version is scored for brass, percussion and organ.  The opening features thrilling writing for the brass as Rutter builds wonderful chords in a fanfare style opening, heralding the arrival of the choir with Gloria.   The middle movement is far more reflective with intriguing decorations from the organ reminiscent of the music of Benjamin Britten.  The fanfares return for the last movement which builds in tempo and dynamic to a spectacular ending."
Together with the brilliant organ accompaniment of Mary Mazur Park, we were also joined by - and they need capitalization to do them justice - Trumpets, Trombones, Tuba and Percussion, who combined to help this wonderful piece of music send us all into the night with high spirits and a very generous helping of Christmas Joy.
'Carols from Buckland Abbey' 2013...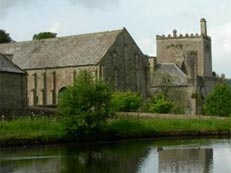 ...proved an exceptional event for everyone concerned. The choir sang a joyful selection of carols during two half-hour long sessions in the magnificent surroundings of the Great Barn. The acoustics alone made for a marvellous atmosphere, and when taken together with the space and majesty of the building the result was a truly enchanting experience.
Both instalments were very well received by an audience of both passing visitors and many who sat throughout the recital. They were treated to a sequence of well loved carols ranging from the relatively sedate 'Away In A Manger' and 'God Rest You Merry Gentlemen', to the sprightly 'Ding Dong! Merrily On High!' and 'Past Three O'Clock'.
In the interval the singers' repeated requests for Figgy Pudding were amply rewarded with steaming mugs of tea and coffee, and unlimited numbers of delicious minced pies, all generously provided by our National Trust hosts.
The appearance of that West Country favourite 'A Merry Christmas' as the finale raised the sound of enthusiastic applause from a very happy audience as it brought to an end a most enjoyable afternoon. And as a final request, the choir was asked to return again next year!
Many thanks are due to Tony Jenks for setting up and organizing what we hope we be the first of many trips to this tremendous venue.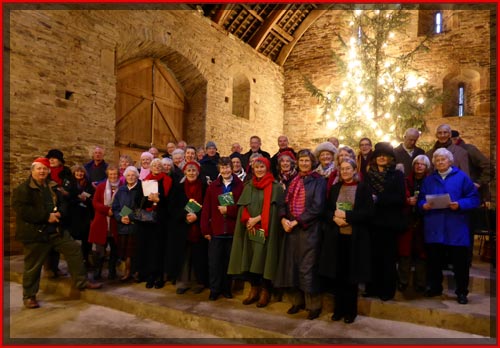 Shortly afterwards we had a taste of Christmas Eve at Lewtrenchard, where a really delightful evening was had by all, together with some mulled wine, more minced pies, and a very appreciative audience for our carol recital (sorry about the picture quality, I only had my phone!)...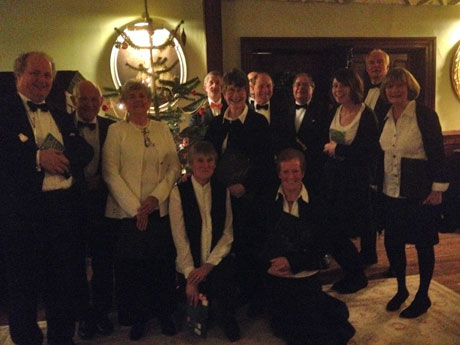 ---
The Mount Kelly Choral Society 2012 Spring Plant Sale
- Saturday 26th May -
Our Plant Sale this year was blessed with extraordinarily beautiful weather. Some might suggest that this was a direct result of combining its benefit with Dunterton Church, and who are we to argue?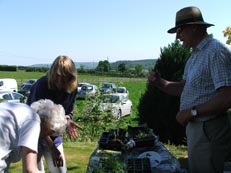 However the sun may have arrived it brought with it the most ferocious wind, but after Gerald Napier had reinforced the road signs to prevent their ending up in Launceston, the visitors began to appear from far and wide. They came in cars, by foot, and in our dedicated conductor's case, on bicycle.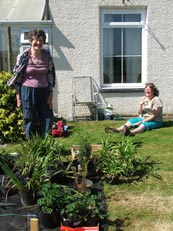 Bridget Norman's and Eunice Burr's plant-sale areas, heavily weighted against the wind, soon began to empty of their fabulous bargains, and there was soon a regular stream of smiling purchasers turning their cars into mobile greenhouses. Tony Jenks had to firmly assure his wife Caroline that the driver's seat was still required for the return trip.
Pam Raven's bric-a-brac stall was well stocked with members' donations, but enjoyed its greatest success through a characteristically generous donation by Mike Lapage of several copies of his autobiography, which were of course quickly snapped up.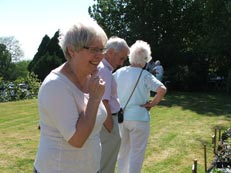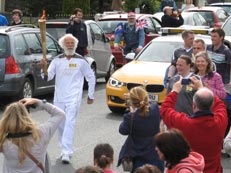 Some enthusiastic visitors were also treated to a view of Mike's recently carried Olympic torch, together with his account of that day's exciting events.

The seating in the tea-garden made for a warmly sociable setting, although the walled garden was not entirely a haven from the wind.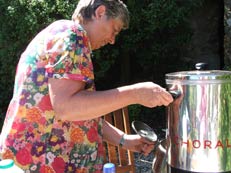 Occasionally it threatened to lift the strawberries off the scones that Jill Stevens and Marcia Howard had prepared, and certainly levitated the tea out of her teacups! You don't believe me?...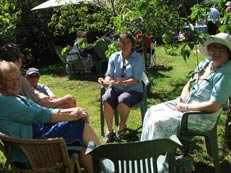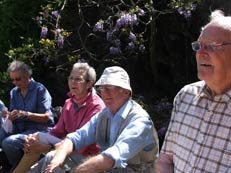 Well you can tell that it was a day of fun and relaxation, and with the afternoon's takings nudging £300, everyone felt yet again that it was well worth the time and effort that went into the making of it.
A big 'thank you' again to Gerald and Marjorie Napier for hosting the Choral Society's Plant Sale, and helping to make it such a smooth running and enjoyable success. Here's hoping for a return visit...
~ All pictures kindly provided by Marcia Howard and Bridget Norman ~
---
Lewtrenchard for Christmas 2011...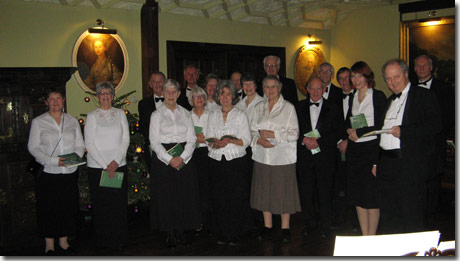 "Seventeen Choristers Carolling"
Together with our illustrious leader,
Lewtrenchard
welcomes us for Christmas Eve carols, mulled wine and mince pies - what a great way to start the holiday!
The MKCS Plant Sale 2011
The Mount Kelly Choral Society Plant Sale and Picnic has been and gone, but if you missed it read on and bask in its reflected glory...
The event was looking at the 'thumbs down' from the heavens as Gerald's Motley Crew gathered for the setup phase of the Mount Kelly Choral Society Plant Sale.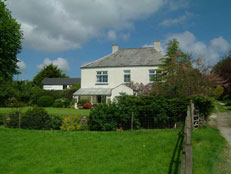 However the heavens weren't counting on military response and ingenuity, and in short order plans were rearranged. Welcome Desk and Cream Tea areas were allocated sheltered corners, and bric-a-brac got re-installed in the nice dry conservatory (which immediately acquired top job status).
As the visitors began to arrive, greeted cordially at the gate by Peter 'Raffles' Snushall,  so the skies brightened to leave Glebe House, maybe not basking in sunshine, but definitely the place to be in West Devon. And the sale got into its stride.
I won't tell you that brassicas immediately took the lead, or that tomato plants were the dark horse of the afternoon, but suffice it to say sales were brisk, and gardening conversations would have scripted several Gardener's Question Times.
Eunice Burr made sure that the plants knew which pots they were supposed to be in, whilst raffle winner and choir pin-up Bridget Norman ensured as many plants as possible made the trip home in visitors' cars.
Bric-a-brac stallholder Judy Ellis got sufficiently distracted from putting jigsaws together to make some excellent sales, though the boxed set of Mahler's 5th at two quid remained behind - certainly one of the day's big upsets.
Cream Tea doyennes Jill Stevens and Marcia Howard lit up the secluded tea garden with smiles and come-hither "have another scone" cajolery, whilst ruthlessly ensuring that Tim Carter in the galley had put enough jam on his creations.  However Tony Jenks was on hand to keep Tim's 'time & motion' and quality control in line (uniformly cut, precision-jammed scones are his forté) .
The raffle prize - a beautiful edition of the DK Gardening Encyclopedia, generously donated by Eunice Burr -  brought the day to a close. A triumphant Bridget Norman tearfully holding her winnings can be seen below.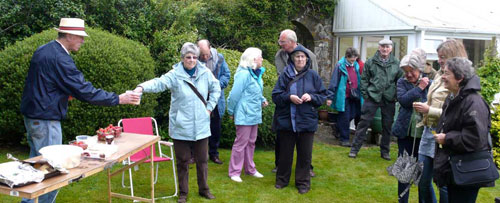 Finally the last visitor's car bounced away across Gerald's field, and the Motley Crew turned to one another with smiles of satisfaction (not relief, you cynic) to tidy up, before the all-important debriefing at the Blacksmith's in Lamerton.
It was an afternoon that all who attended thoroughly enjoyed, and left feeling that it was time we as a choir did more of this sort of thing. Which is what it's all about, isn't it?
--- ~~ ---
Gerald's Dunterton Plant Sale was an unqualified success. It took a total of £247.01, of which £209.03 was clear profit for the Choral Society.
If it were possible to toast a gentleman in an article, then here's to Gerald Napier, without whom none of this delightful afternoon would have been conceived, encouraged, and brought into the light of day. Thank you Gerald.
All pictures kindly provided by Marcia Howard and Peter Fox