Our Accompanist

Meet Mary Mazur-Park, Mount Kelly Choral Society's Musical Accompanist...
Mary Mazur-Park was born in Chicago of Latvian and British parentage. At the age of 4. she commenced her study of the piano. After completing three years of High school education in the United States, Mary Mazur was awarded early admission to the Chicago Musical College of Roosevelt University.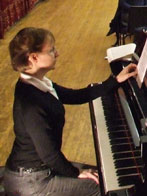 During her years at college she studied with Professor Saul Dorfman and the young Polish pianist Janusz Twardowski. Whilst preparing for her senior recital Mary was coached by the Dean of the Chicago Musical College, Felix Ganz.
In May 1978 she gained her Bachelor of Music degree in Piano Performance, with honours, having also won the Miriam Mesirow Marks Award and scholarship. At the end of that year she came to live with her parents in Lifton, Devon.
Whilst at Lifton she studied with the well-known West Country teacher, Royland Jordan, and has obtained her diploma as a Licentiate of the Trinity College of Music, London. She also studied with Miles Coverdale.
Mary now lives in Tavistock and works as a recitalist, organist, accompanist and teacher.