Welcome to the MKCS Website
Mount Kelly Choral Society Spring Concert 2023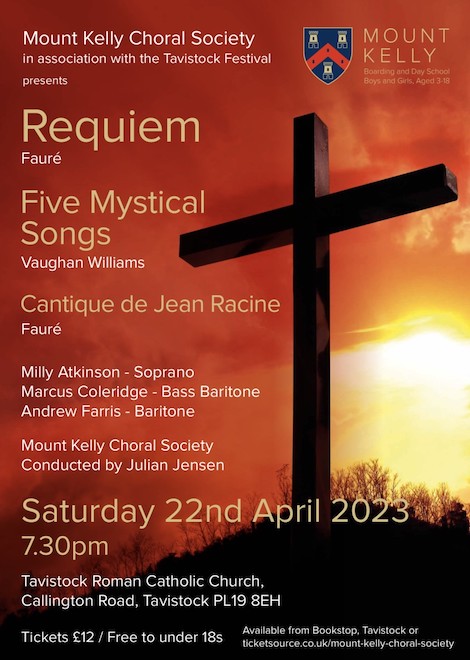 On 22nd April 2023 Mount Kelly Choral Society will be performing the following three works in association with the Tavistock Festival:
Faure's Requiem, Five Mystical Songs by Vaughan Williams and Faure's Cantique de Jean Racine.
The concert will be performed in the Roman Catholic Church, Tavistock at 7.30pm. Tickets are £12 (under 18s FREE) and are available at Bookstop Tavistock
or online via ticketsource.co.uk/mount-kelly-choral-society
Soloists are Soprano -Milly Atkinson, Bass Baritone- Marcus Coleridge and Tenor - Andrew Farris. Conductor - Julian Jensen
"In his seven section Requiem, the French composer Gabriel Faure distilled some of the most beautiful melodies he ever composed. The creation was almost certainly a musical tribute to his father who died in 1885, three years before work on the Requiem commenced".
"The Five Mystical Songs are a musical composition by English composer Ralph Vaughan Williams written between 1906 and 1911. The work sets out four poems by seventeenth century Welsh poet and Anglican priest George Herbert from his 1633 collection The Temple: Sacred Poems."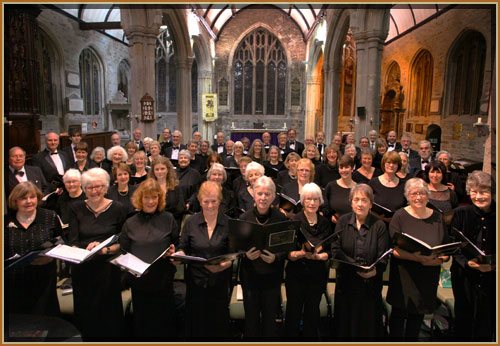 We are a mixed choir always welcoming newcomers. We sing a wide variety of choral works and perform two or three concerts a year. Although aspiring to high standards, anyone who wishes to develop their singing abilities is welcome. Auditions are usually only required if the section for the voice concerned is oversubscribed. The choir is very friendly, reasonably serious but NOT SOLEMN! You can attend up to six rehearsals on a trial basis, without obligation.
Rehearsals are on Thursday evenings from 7.30 to 9.30 in the Big Hall at Mount Kelly College.
Annual subscriptions are £60 full subscription. Membership is free to under 18s.
For more information contact either Membership Secretary Chris Caple - quel1@aol.com or Chairman Robin Venables – rjv@sigmanova.co.uk
For help with rehearsing, choir and choral related information and more, visit our
Links Page!

NEWS
Welcome...
After hearing us sing, you may well be thinking of thinking of joining us - Read more on our Join Us page!
Diary Dates

22nd April 2023
Fauré's Requiem
&
Five Mystical Songs Vaughan Williams

Visit us on Facebook